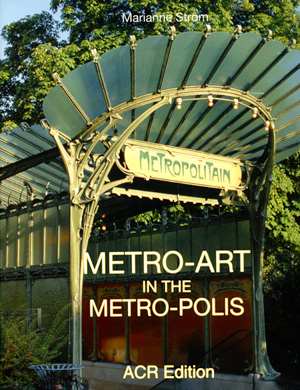 "Today, a metropolis without a metro is like a church without a steeple – that is, not very convincing"– American architect Peter Blake.
Since 1863 – when the North Metropolitan Railway Company in London inaugurated the world's first metro line with great pomp – many cities around the world have acquired their « steeple » and thus entered the select club of great metropolises. Today there are some 150 metro cities in the world.
Public Art in the Metro – Why Not ?
« In the eyes of most Parisians, the metro will have no excuse unless it rejects all industrial character in order to become a work of art… » – Charles Garnier wrote a century ago.
Today's challenge is to give passengers the advantage of a metro that is conceived as a work of art, endowed with aesthetic and cultural qualities. The commuters should have the right to enjoy a subterranean space that reflects, concentrates and accentuates the political, economic and social climate above ground, which the underground depends on. Can we create a utopian artistic and social space below ground without first having solved the multitude of problems that face us above ground?
The exhibition Metro-Art in the Metro-Poles presents various examples from all over the world showing the methods used to integrate aesthetic and cultural values into the metro space.
Over time the artistic contributions and interventions have become more daring, ambitious and spectacular. The competition between metropolises to be the most creative metro-city is becoming tougher and also more stimulating. Art and the metro make a good marriage with the metro commuter as witness and beneficiary.