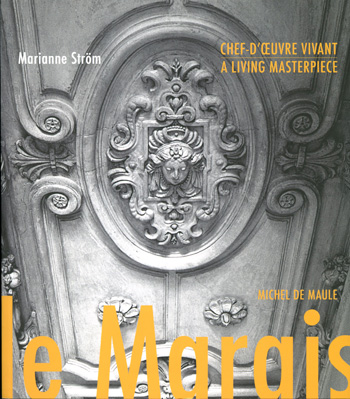 The enchanting Parisian quarter Le Marais was first civilised and cultivated by the religious orders. Le Marais then became the favoured haunt of the royal family and its court. But fashion changed and Le Marais was abandoned by the aristocracy and the court. Thereafter the quarter was invaded by artisans and small industry. Today Le Marais is much in vogue with young fashion creators and many trendy bars. The Marais has fully rediscovered its splendid architecture after some 40 years of preservation and renovation.
Not least in its architectural details Le Marais is distinct proof of the mastery of artists and artisans during the epochs as expressed in the successive dominating styles. Here you can see a portal with its heavy nails in the Louis XIII style, there a wrought iron staircase in the Louis XIV style, an elegantly curved balcony in the Louis XV style, a neoclassic console in Louis XVI style or a fountain from the period of Louis-Philippe…
The old shop signs of small commerce in Le Marais also evoke a not so distant past. The small businesses are being transformed. The artisans leave, fashion and trends take over. Only the old signs remain, still hanging over a new fashion boutique to indicate the trade of baker, butcher, violinmaker…that it used to house.
The details of Marais architecture, captured by the photo lens, let us closely observe the essence of the architectural treasures of this civilised and multicultural quarter. Given a new life by inhabitants and strolling visitors, quite fascinated and marvelled by Le Marais.